The mission of Martinez Opera Contra Costa (MTZO) is to provide opportunities for children, teens, and adults to participate in a performing arts organization dedicated to the education, performance and appreciation of classical music, opera, and theater.  MTZO provides Contra Costa with programs that reach all socioeconomic levels, age groups, and ethnicities.  Our expected outcome is to create future audiences for opera, classical music, and theater while stimulating developing minds.
The Martinez Opera Company was originally founded in 1889 by Professor Walter Bartlett of Boston, the first opera company in California. At that time Martinez was the cultural center of Contra Costa County. After lying dormant for fifty years, it was reinstated as a non-profit organization in 2002. The scope of the opera company's vision includes:
Professional opera productions
Education of youth in and out of school
Outreach into the community
Strong leadership by artists; and
Support by dedicated volunteers.
These are realized by six distinctive divisions of the opera company;
Main Stage operatic productions
Non-Traditional  outreach concert presentations
Singers for Seniors
Culture for kids :Early Childhood "Sing me a Story"  0-5 years
Culture for kids: Arts in Education K-5 grades
Culture for Kids: Pro- Production 13-17 years of age.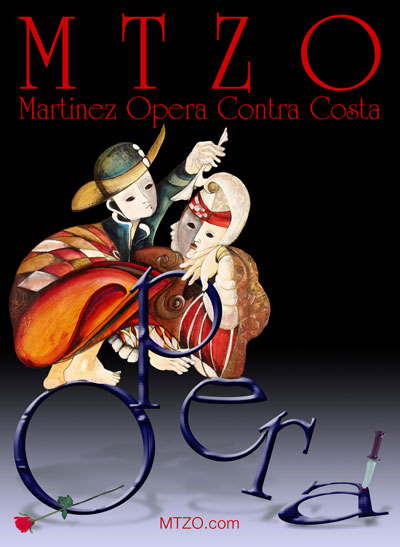 Martinez Opera Contra Costa poster
Size 33x24 inches
Available for sale (limited)